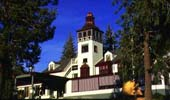 The closest airport - about a two hour drive - is El Paso, Texas. Albuquerque, NM is the alternative - about a 4.5 hour drive from Sunspot. Directions and maps are available at the NSO Sacramento Peak website (
http://nsosp.nso.edu/
); the workshop will be held in the Visitor's Center.
Let us know once you've made your travel arrangements and we can serve as a clearing house for carpooling (you can do this either by e-mailing us or on the website).

The National Solar Observatory at Sacramento Peak lies in New Mexico at the southern end of NM Scenic Byway 6563, about 16 miles (by car) south of Cloudcroft (on NM 82), and 40 miles southeast (by car) from Alamogordo (on NM 70 and 54), in the village of Sunspot: http://g.co/maps/bjk4s The drive from Alamogordo in the Tularosa Basin to Cloudcroft in the Sacramento Mountains involves a curving, 16-mile climb spanning about 4500 ft of altitude difference and takes more time than a comparable distance on flat highways. For regular passenger cars, expect to take about an hour from Alamogordo to Sunspot (about half an hour from Cloudcroft to Sunspot). Sunspot has no gas station, grocery store, or restaurant, so make sure you have enough gas and food to get back to Cloudcroft, which is the nearest town to offer these services.
From Cloudcroft, take NM 130 East (the junction with NM 82 lies at the western edge of town) and drive about 2 miles to the junction with NM 6563. Then, follow NM 6563 all the way to the end, about 14 miles on. Once inside Sunspot (through the stone gate), take the first turnoff to the left (marked "visitor center") and park in front of the Visitor Center.