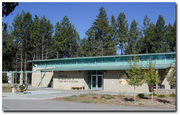 We will host a beer & wine reception for everyone after the Monday sessions, and then on Tuesday we will have a barbeque at the dining hall (the Sac Peak community including accompanying persons will be invited to both of these), and then on Thursday we will have a banquet in Cloudcroft at the Lodge. We will charge an estimated fee of ~$60 to include: $15 for daily breaks (coffee, etc.), $20 (barbeque), $25 (banquet + $25 for accompanying persons). Wednesday is the tour to Carlsbad.
Ad blocker interference detected!
Wikia is a free-to-use site that makes money from advertising. We have a modified experience for viewers using ad blockers

Wikia is not accessible if you've made further modifications. Remove the custom ad blocker rule(s) and the page will load as expected.