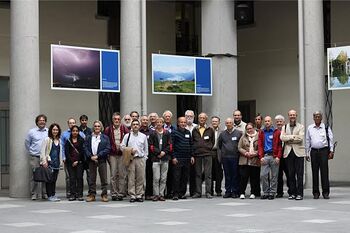 Ed Cliver, NSO (Co-Organizer; Interests - long-term solar and solar wind reconstruction)
Frédéric Clette, Royal Observatory of Belgium (Co-Organizer; Construction of the international sunspot number)
Leif Svalgaard, Stanford (Co-organizer; Geomagnetic observations; Long-term solar and solar wind reconstruction)

Alvestad Jan, Solar Terrestrial Activity Report, Tjelta, Norway
Ambrosetti Paolo, MeteoSwiss, Locarno, Switzerland
Arlt Rainer, Leibniz Institute for Astrophysics Potsdam, Potsdam, Germany
Beer Juerg, Eawag, Duebendorf, Switzerland
Belluzzi Luca, Istituto Ricerche Solari Locarno, Locarno Monti, Switzerland
Bianda Michele, IRSOL, Locarno, Switzerland
Brajsa Roman, Hvar Observatory, Faculty of Geodesy, University of Zagreb, Zagreb, Croatia
Bulling Andreas, Solar Section, VdS, Eppelheim, Germany
Cagnotti Marco, Specola Solare Ticinese, Locarno, Switzerland
Carlin Ramirez Edgar, IRSOL, Locarno, Switzerland
Clette Frédéric, Observatoire Royal de Belgique, Brussels, Belgium
Cliver Ed, (1) AFRL (2) NSO, Sunspot, USA
Cortesi Sergio, Specola Solare, Locarno 5,
Dayananda Supriya, Indian Institute of Astrophysics, Bangalore, India
Dudok de Wit Thierry, University of Orléans, Orléans, France
Fröhlich Claus, PMOD/WRC, Davos, Davos Wolfgang, Switzerland
Hathaway David, NASA Marshall Space Flight Center, Huntsville, USA
Hejda Pavel, Institute of Geophysics of the ASCR, Prague, Czech Rep.
Hérent Olivier, Institute of Astrophysics Paris, Paris, France
Howe Rodney, AAVSO, Fort Collins, USA
Javaraiah Javaraiah, Indian Institute of Astrophysics, Bangalore, India
Kiess Christoph, Kiepenheuerinstitut für Sonnenphysik (KIS), Freiburg, Germany
Kilcik Ali, Akdeniz University, Antalya-TURKEY, Antalya, Turkey
Lefèvre Laure, Royal Observatory of Belgium, Brussels, Belgium
Margit Haberreiter, PMOD/WRC, Davos Dorf, Switzerland
Pevtsov Alexei, National Solar Observatory, Sunspot, USA
Ramelli Renzo, IRSOL, Locarno, Switzerland
Stenflo Jan, IRSOL and ETH Zurich, Wuerenlos, Switzerland
Svalgaard Leif, Stanford University, Petaluma, United States
Travaglini Guido, Università di Roma 1, Roma, Italy
Vaquero José, Universidad de Extremadura, Mérida, Spain
Willis David, Rutherford Appleton Laboratory, Didcot, United Kingdom
Ad blocker interference detected!
Wikia is a free-to-use site that makes money from advertising. We have a modified experience for viewers using ad blockers

Wikia is not accessible if you've made further modifications. Remove the custom ad blocker rule(s) and the page will load as expected.